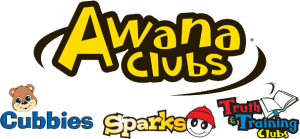 Fall 2016
Dear Parents,
Thank you for joining us for this year's AWANA program at Ainger Bible Church.  We are looking forward to seeing what great things God has in store for us!
Our schedule includes:
5:45 – 6:15          Family Supper served – all are invited – donations accepted
6:30 – 6:35          Club Opening in the Game Room
6:30 – 7:00          Cubbies Handbook time; Sparks & TNT Game time
7:00 – 7:30          Combined Counsel Time where we will be learning attributes of wisdom
7:30 – 7:55          Cubbies Game time; Sparks & TNT Handbook time
7:55 – 8:00          Awards and announcements
For your clubber's safety, we have two options for dismissal.  You may drive up under the carport where an adult will be releasing children at the door or you may park and come downstairs.  We are trying to avoid having children wandering unaccompanied in the parking lot – especially when darkness has fallen by 8:00.
Suggested donations:
Weekly dues                      $0.50                                                   Uniforms – new  $10.00
Handbooks                         $7.00                                                  Uniforms – used $ 5.00
We don't want finances to be a barrier, so please talk to Carrie Orr if these amounts present a problem for your family.
Memorizing God's Word will produce life-long benefits for your child.  Therefore, we encourage you to work with them at home on their handbook sections.  In fact, we offer bonus store shares for work completed at home!
What an honor it is to help you disciple your child.  We take this opportunity seriously and will endeavor to provide a place where God's truth is both seen and heard.  Please contact us with any questions or ideas you may have.
contact Mark & Susan Potter, AWANA Coordinators, 517-543-2886 or Pastor Brett Myers at the church office, 269-749-9321.
Calendar
| | | |
| --- | --- | --- |
| Date | Theme | Menu |
| 1/5/17 | Christmas Pageant | Chicken |
| 1/12/17 | Dot Night | Spaghetti |
| 1/19/17 | Western Night | Chili |
| 1/26/17 | AWANA Fair | Chicken |
| 2/2/17 | Winter Wonderland | Meatloaf |
| 2/9/17 | Unbirthday Party |  Pizza |
| 2/16/17 | Baby Picture Night | Chicken |
| 2/23/17 | Inside Out Night | Spaghetti |
| 3/2/17 | Grand Prix | Sloppy Joes |
| 3/9/17 | Potato Night | Baked Potato Bar |
| 3/16/17 | Goofy Glasses Night | Chicken |
| 3/23/17 | M & Ms Night | Meatloaf |
| 3/30/17 | Team Colors Night | Spaghetti |
| 4/6/17 | Sports Night | Chicken |
| 4/13/17 | Spring BREAK – NO AWANA |   |
| 4/20/17 | Affliction Night | Meatloaf |
| 4/27/17 | Closing Night | Chicken |